Reviewed by Colin D. Speirs
Giant Book of Battlemats Volume II – £32.99
Big Book of Battlemats Volume II – £19.99
Available direct From Loke Battlemats or from hobby and river nameD retailers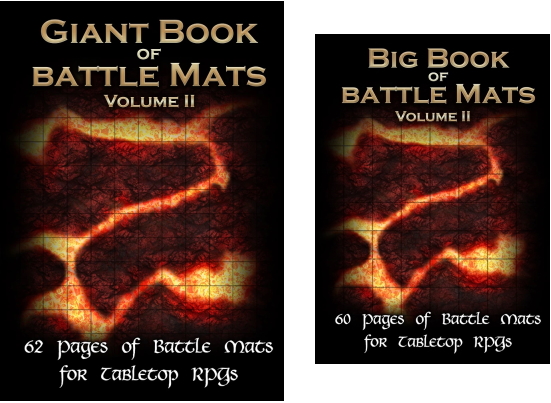 The concept of these is quite simple, A book terrain maps for the role-playing table that lie flat whatever map you choose. There are a range of maps from the company, for fantasy, including dungeons, and science fiction locations. A disclaimer though, I got these free in a prize draw from Loke, though they didn't ask for a review or any acknowledgement in return.
These two books contain, with some differences, the same maps, or subjects of maps, with an overlaid 1 inch (2.54cm) by 1 inch grid. Although the grids are the same, these are not geomorphic, at least not with each other, books of the same size might let you connect roads on one mat with roads on another.
There are 62 pages in the "Giant", 60 in the "Big", folding out to a terrain mat comprising of both facing pages. Most are the same, but those in the "Big" book are either cropped or slightly redesigned to fit. In the shipboard mat, for example, the "Big" mat has a smaller, different ship than that of the "Giant", the tower mat has different facing pages from the tower in each book.
Most of the mats in this book are outdoor encounter scenes, from a plain grass field, unadorned by features, to a ruined temple by a sea-shore, a road crossing, a fallen tower, a tree village and more. There are plenty of features for cover and Loke do produce a pack of reusable terrain pieces to change things, though so far that looks just to be mainly Dungeon furniture. That I have ordered for myself. The one mat in the Giant Book that isn't in the Big is a kind of arid desert, complete with a sun-bleached cattle skull.
You could, of course put model terrain pieces on them, but I suspect cardboard houses might not sit too well on them compared to felt or normal hard terrain mats.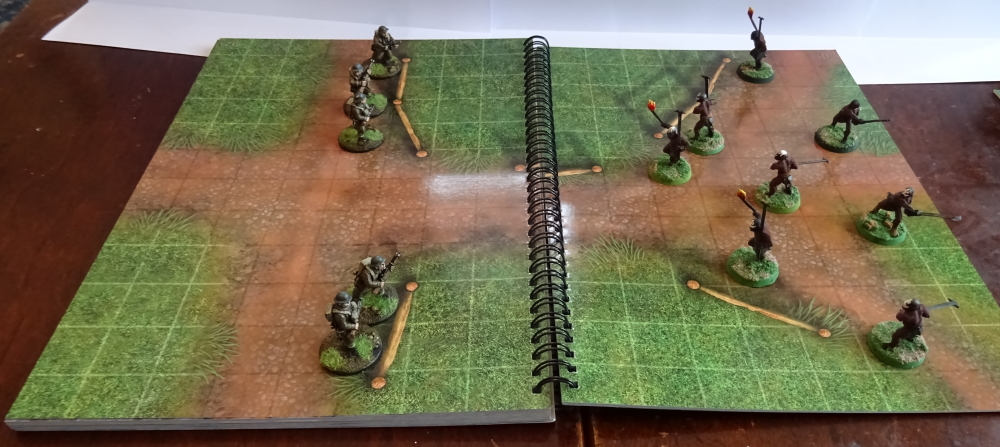 As well as RPGs, you could do some skirmish wargaming like with a small number of figures a side. With some of the mats on the Giant Book you could use for wargaming larger battles with smaller scale figures. The proportions of the Giant book mat the traditional 6 by 4 near enough, but the field will be smaller even in proportion for the usual base sizes for 10mm or 6mm figures. However the central comb would be a problem for traditional measure and wheel type games, you can't have a stand straddle the comb without looking silly.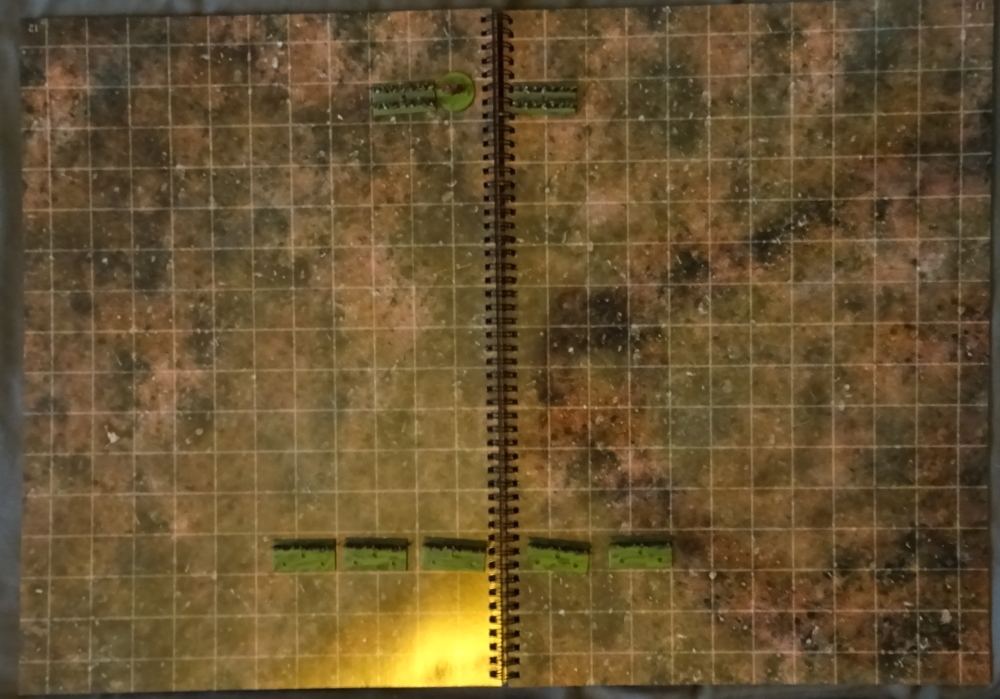 As you can see from the photos, they are reflective, but unless taking photos that shouldn't be an issue and that is because they are coated so they can be wiped clean, either to clean off marks you have made on the map, or just for hygiene in these pandemic times.
If you are using hex based systems then yes, the squares aren't useful, some you could adapt, but I do not believe they offer any in a hex system at present.
These are a good idea for simple and easy encounters and you could also fold the map over in half if you are short of space, like train journeys when they are a thing again. . They are not as specialist as, say, the Dungeon books Loke produce, but they are not supposed to be.
I've been hinting to relatives about getting me the first volume of the Giant book for some time, and I think others in the range will be the next thing I will be hinting about. For these two books, at about £1 a map for the Giant book and £0.67 for the Big book, I can see situations for most maps and I am glad I have them